Monday, March 31st, 2008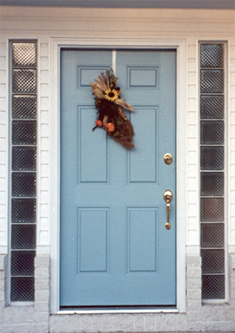 In recent years Glass Block has seen somewhat of a resurgence in popularity. Traditionally used for more industrial type settings glass block is now considered stylish enough for the home, offering a sleek and modern look. Along with looking great they are a multipurpose building material. They can be used to borrow light from another room, as a privacy partition in your bathroom, or even to create a dramatic entrance way to your home. No longer confined to just one style, glass block is now offered in a few different patterns. The Decora blocks have a slight wave to them, and are the design most typically thought of when one thinks of glass blocks. This block provides maximum light and subtle visual distortion. The Delphi pattern, otherwise known as the diamond design, offers maximum privacy but does not allow as much light to come through. Another popular style is called the Icescapes. This pattern allows the light to come in to the room but still offers privacy. All three patterns are available in 3″ thickness (the Thinline Series) and a 4″ thickness called (the Premiere Series).
The Premiere series has been around much longer and therefore offers more styles to choose from. In addition to the 3 standards this series carries a block called the Decora LX Filter. This block offers maximum privacy and adds significant thermal and light characteristics. The Argus pattern has rounded perpendicular flutes which offer a very unique look. Another block that has an interesting pattern to it is the Essex. This has a fine grid line design and offers some light transmission of a moderate degree with maximum privacy. For the applications where you would like to have no distortion to the block and to allow the most light to come through you would use the Vue pattern. This is a smooth undistorted block that looks like a regular glass window.Whatever pattern you choose you'll find glass block to be a great product; easy to work with, and highly versatile.
Tags: building material, diamond design, dramatic entrance, factories, Glass Block, glass blocks, glass window, grid line, light transmission, maximum privacy, moderate degree, premiere series, privacy partition, versatile glass, visual distortion