July 29, 2008 – 12:45 pm | by Accent Building Products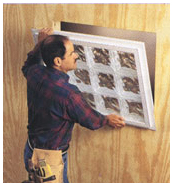 When searching the term Glass Block window on Google or Yahoo you will typically see two options, a window and a panel. They may look the same but there are two very distinct differences. The simple definition of a Glass Block window is that it has a full vinyl frame with a nailing flange and is not offered with a vent. In contrast, a Glass Bock Panel has no frame. The block are simple siliconed together and the other perimeter is exposed block. Depending upon the size of the panel it can have a vent in it. Typically the vent is 1 block high by two blocks wide and needs to have glass block going all the way around it. The exception is a dryer vent which takes the space of one 8×8.
Glass Block Windows are usually offered with a white or tan frame and a clear silicone between the blocks. The silicone and it's method of application are identical to that of a Glass Block Panels. This style of window usually works best in new construction or in the case where your opening happens to work with the limited sizes available in windows.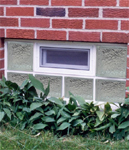 Glass Block panels are often referred to as basement windows as they can easily be mortared into to cinder block wall. This is why there is no vinyl frame necessary. They are also a great choice for small wall partitions such as a half privacy wall in the bathroom. Both panels and windows are offered in the 3 classis Pittsburgh Corning block designs, Decora, Delphi and Icescapes. Decora will let in the most light but offer the least amount of privacy. Delphi will allow the greatly increased privacy over Decora, but it will also block the more light. This block pattern is typically used for commercial or industrial application as its look is not ascetically pleasing for most homes. The most popular option is the Icescapes block, as it offers a fair amount of light transmission while providing maximum privacy, all while being the most decorative.
Regardless of your application needs there is a pre-made glass block product that will help you complete the job, saving time and effort all while achieving the look you desire.
Tags: application, basement windows, bathroom, cinder block wall, glass block panels, glass block windows, industrial application, light transmission, maximum privacy, new construction, pittsburgh corning, vinyl frame, window